Our Centre
Getting Started
Little Athletics provides an opportunity for kids to participate in athletics in a fun and family friendly environment. Did you know that athletics skills are the basis for every other sport? Run, Jump and Throw!
Our meets are held Friday evenings from 5.30pm – 7.30pm (approx) at Lyndoch Recreation Park Oval. Our centre is run entirely by volunteers and we ask parents to get involved with chaperoning their kids through the events in age groups, spending one or two nights a season in the canteen, on setup or pack down duties or even joining the committee. No experience necessary, our committee and previous year's volunteer parents are always on hand to help.
There are various opportunities throughout the winter cross country season for athletes to compete at Adelaide Athletics Stadium and other athletics clubs and parks/ovals.
This year we are moving to an electronic recording system so you will be able to record and view your athletes performance on your phone or computer.
LADLAC also welcomes the use of School Sports Vouches. List of current committee members can be found on our website, along with a calendar of events. Look out for the fluro green shirts or see us in the canteen when you first arrive.
Come and Try
We welcome you to 'Come and Try' at anytime during the season however a BIG 'Come and Try' session is generally organised at the start of the season so watch for dates!  See here for upcoming events.
If you are keen to attend a session, you will need to register via the SALAA Registration Form.  We will be notified according.
Click here to Register for 'Come and Try'
Age Groups
View Age Group Calculator chart.
Fees & Registration
Fees for the 2019/20 Season are:
1st athlete – $145
2nd athlete – $145
3rd athlete – $112
4th+ athlete/s – $82ea
Tiny Tots – $140
All registrations must be completed prior to your first meet (Come & Try sessions included) at salaaportal.azurewebsites.net. Returning athletes should sign in with their existing SALAA account. New athletes are eligible for 2 fee-free Come & Try sessions.
Uniform
LADLAC Uniform consists of a fluro green t-shirt or tank top for the U14 and older age groups and black shorts or bike pants. Please ensure that your black shorts/bike pants do not have any visible logos as these will not be accepted if your athlete attends events run by SALAA at the Adelaide Athletics Stadium.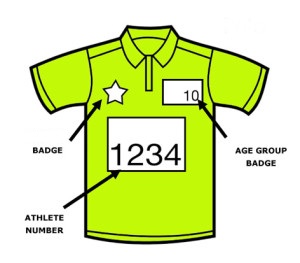 Compulsory Uniform
Shirts are to be purchased from the Centre. Generic black shorts can be purchased from sports stores etc. Appropriate footwear must be worn AT ALL TIMES as well as hats and sun-screen.
Sponsorship Badges
Three badges will be supplied once registered. The image above shows where each of these badges need to be positioned on your child's shirt. ALL badges and numbers will be allocated once registered.
Each season your child will receive a new athlete registration number and age group badge. The Registration number is registered with SA Little Athletics Association and is how your child is recognised in interclub meets.
Purchase Shirts
Shirts are to be purchased/ordered from the canteen/clubrooms at the beginning of the season, or when you register.
LADLAC shirts = $35 each (Compulsory)
Socks = $5 pair (Optional)
There are more options available with t-shirts (no collar) available for U9+ and singlets for U12+. We also have cheaper alternatives for Tiny Tots.
Uniform must be worn
All athletes must be in uniform to participate in Friday meets as well as interclub meets (including the correct athlete number). Uniforms must be current and up to date with all badges within 2 weeks of completing registration. Each week that your child participates they receive a point for being in the correct uniform.
Team App
All our event and training dates and times and newsletters are published on our TeamApp. Once you have registered (full season or Come & Try) download team app and search for LADLAC.
Go to TeamApp.